Our poker software solution is delivered with an important set of features and services including custom design website, custom made logo visible on all tables and lobbies and a large variety of branding materials.
Turnkey poker software is the perfect solution for operators interested in running an online poker business without handling all day to day administrative operations. Highly customizable, affordable and perfectly suited to be incorporated into an already developed gambling business or into a website dedicated solely to online poker, turnkey poker software delivers the most intuitive management tools available while providing 24/7 website functionality with daily operations managed by our own staff along with excellent technical and customer support via e-mail or phone.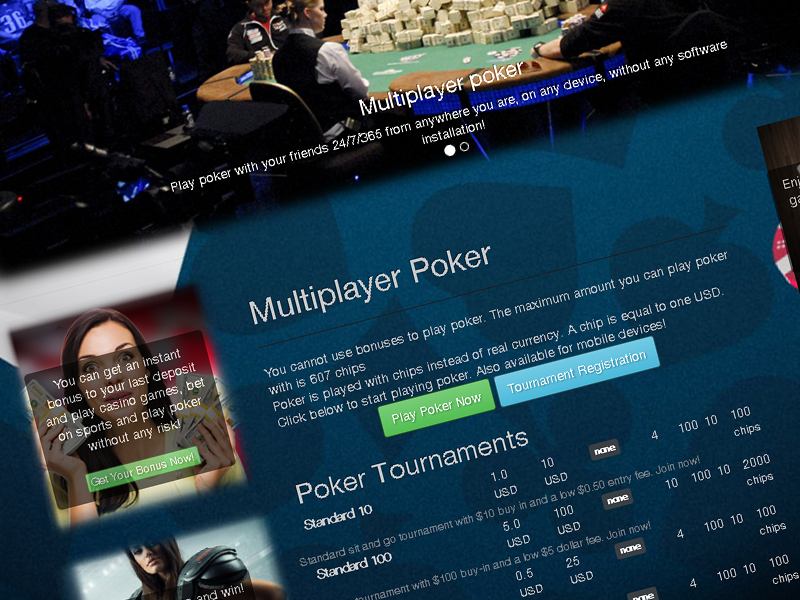 Operators can easily identify trends and get a better insight into the business thanks to an advanced reporting system module along with a variety of administration tools. In addition, our Content Management System allows operators to access with ease detailed accounting, customer management, promotional features and marketing statistics.
Poker rooms can be configured with several methods of play:  cash games, sit & go tournaments (the tournament starts when a pre-defined number of players are registered), multi-table tournaments (the game is played until one of the players has all the chips), free rolls (allows players to familiarize with the game of poker), shootouts, 1 on 1, knockout tournaments (at a pre-determined time during the tournament, the player with the smallest chip stack gets knocked out). All tournament promotions and bonuses are fully customizable.
Able to entertain more than 100.000 concurrent users, our scalable and reliable poker platform is equipped with the industry's leading security, fraud prevention and state of the art encryption for a secure payment processing service.
We provide several variations of poker like: Texas Hold'em, Crazy Hold'em, Telesina, Omaha, and Stud Poker with the possibility to integrate more if needed. Each variation provides tables with different stakes to match all budgets. And if you require a custom game developed, we offer the fastest turnaround in the industry.
Each Poker game accommodates 3 types of limits: No Limit ( there is no specified betting limit on each round of betting, allowing players to bet all of their chips at any time); Pot Limit (betting restricted to the amount of the pot), Fixed Limit (there is a specified betting limit on each round of betting).
Our Poker Software enables multiple windows to be opened creating the possibility for players to sit at several tables simultaneously. Also each poker room is equipped with a chat box allowing players to interact among themselves.
A very popular feature is the HTML5 mobile version compatible with all mobile devices with no download or installation requirements. This allows users to play poker on the go from anywhere in the world.
Another important aspect operators might consider is the fact that hosting and payment processing are included in our package for no additional costs.